What Kind of Tree Should I Get?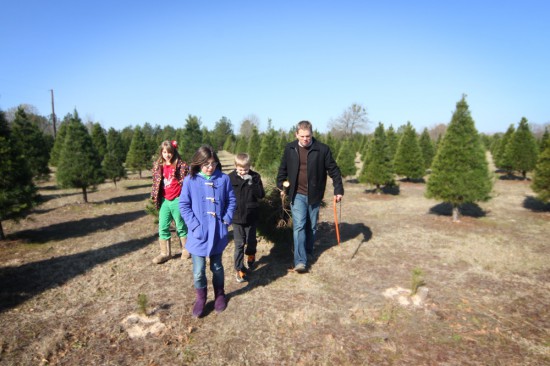 Are you looking for the perfect Christmas tree for your family?  Look no further.  Our hope is that this guide will help you find the tree that best fits your families liking and childhood memories.  You can choose and cut your own tree right out of our fields! We grow two varieties of trees Virginia Pine and the Leyland Cypress .  We also have a large selection of premium 4-10 foot Fraser Firs that are shipped fresh to us from the mountains in North Carolina.
This tree is the traditional East Texas Christmas tree.  The pine tree has long needles, dense foliage, and a great pine fragrance along with sturdy branches that are great for holding your heavy ornaments.
Does someone in your family suffer from allergies; therefore you shy away from real trees?  If that's the case, you don't have to miss out on making family memories around the tree anymore…we have the tree for you!  The perfect tree for your family would be the Leyland Cypress; which doesn't pollinate!  Yeap, that's right.  There is no pollen (or fragrance) to irritate those that are sensitive to tree pollen!  This tree looks similar to the East Texas Cedar tree with the exception that the Cypress is not "pokey" like the Cedar.  The Cypress branches are long and more flexible so they are not so good for heavy ornaments.  But this tree does give you more of a "country" look.
And for those of you that didn't grow up in Texas; we have the perfect tree for you!  We offer a premium Fraser Fir fresh cut from North Carolina.  The fir branches are very sturdy and turn slightly upwards.  Some would describe their scent as a sweet fragrance.
Afghan Pine
Often found in west Texas, the Afghan Pine (Eldarica) looks a lot like the Virginia Pine. It has a mild fragrance and sturdy branches that are spread further apart, giving it a more open appearance than the Virginia Pine.
Eastern Red Cedar
Eastern Red Cedar is the traditional native Christmas tree that many southerners remember from their childhood. The red cedar is quite dense, has outstanding aroma, a pleasant green color and a natural "Christmas tree" shape.
Carolina Sapphire
Carolina Sapphire is a cultivar of Arizona cypress. Grown on a limited basis across the South, its best characteristics include fast growth, a beautiful blue color and an excellent aroma.
Artificial Trees
The artificial tree has been around for many years and has come a long way.  If it's your families tradition to put up an artificial tree, then you probably know the benefits and pitfalls of putting one up.  But for those who are thinking that you want to try one this year; here are a few things to consider.
Will you buy one with lights or without lights?  What happens when a light bulb burns out, can you replace the one bulb or do you have to replace the whole strand of lights?  Where will you store it?  How will you store it?
So, Real or Plastic is the question that many families will face this holiday season.  Just remember that whatever kind of tree you are thinking about putting in your home this year; its really not about the tree…its about the memories you are making with your family.